It Started with a Passion.
January 2008
Akshay Malhotra's talent was recognized and covered by the Texas CBS Morning News television channel.
Then One Mission…To Impact a Life.
August 2008
On his trip to visit India, 9-year old Akshay recognized a sense of purpose for his talent and set his eyes to win the US Open Chess Championship (Class B Award) to take care of the entire education and healthcare of an underprivileged child using his own won championship prize money. He preponed his trip back home, competed in 9 rounds against chess masters, experts, and skilled players, and won his tournament section in a nail-biting decisive final round.
And a Community.
February 2010
Akshay played for Haiti Disaster Relief, a series of 25-board simultaneous games every day from January 27 through February 3. With 150 games played with a score of 150-0, Akshay not only raised funds for Haiti relief but also created awareness for the cause, and he was covered by the city newspapers and the United States Chess Federation website. A social movement began to take shape in Akshay's mind as he realized that he could use his talent to bring change and impact lives.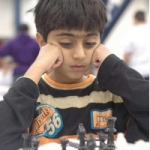 Then Hundreds of Lives and Multiple Communities.
June 2012
Chess for Humanity – A non-profit social venture, the brainchild of Akshay Malhotra, was founded with a mission to provide veterans with recreational therapy to stay strong and focused during tough times of transition, maintain seniors' brain health through stimulation with mental exercises to prevent Alzheimer's and Dementia, transform at-risk juvenile youth with decision-making education to reduce violence and recidivism, and empower children with strategic life skills programs to help them succeed in school and in life.
March 2015
Continuing its ongoing commitment, Chess for Humanity has impacted hundreds of veterans, children, senior citizens, and at-risk juvenile youths in the community.
October 2015
Chess for Humanity initiatives expanded internationally to underserved schools in Central America and Africa with the help of local volunteers and school coordinators.